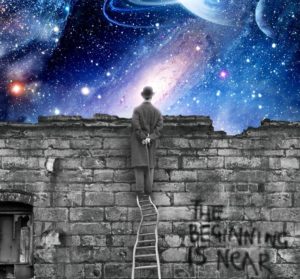 When I was a kid, I was bullied a lot and therefore spent a lot of time alone. Some of the greatest friends I had and the most exciting adventures I took part in were through words on a page. They took me away to places I'd probably never go, some of which don't even exist other than in our imaginations.
I think sometimes readers read and writers write for much the same reasons – to escape to another place or time, to dream and experience things that are beyond their reach, to peel back the fabric of reality and peek at the unknown or the unbelievable, the impossible or the unreachable.

Jules Verne took me 20,000 leagues beneath the ocean; Jonathan Swift let me travel along with Lemuel Gulliver to lands of giants and lilliputians; Betty Smith let me experience the life of a simple girl in New York City through the Great Depression.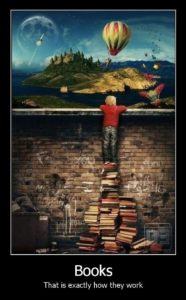 Stephen King scared the shit out of me with clowns and aliens and skinwalkers; JRR Tolkien introduced me to elves and
dwarves and orcs; HP Lovecraft reminded me that Cthulhu still waits dreaming…
And it's not always fiction that opened my mind…Anne Frank broke my heart and made me wonder why humans are so cruel; Ann Rule showed me just how cruel people can actually be; Jim Morrison made me less ashamed to be strange because "five to one, baby, one in five; no one here gets out alive;" Kurt Cobain's diaries made me realize that we don't always know the whole truth about anyone.
I sometimes wonder if many authors realize the power they have in their pen or keyboard; how many minds they've set free just by putting pen to paper or fingers to keys.
Which authors sparked your imagination or gave you an escape just when you needed it the most?
"And above all, watch with glittering eyes the whole
world around you because the greatest secrets are
always hidden in the most unlikely places. Those who
don't believe in magic will never find it."
Roald Dahl
---
WRITING PROMPTS
How about some writing prompts? Pick one (or two…or more!) and write something! See the menu at the top of the page if you'd like to have your writing posted on this site.
Use this plot: reporter arrives in town and asks odd questions
You wake up, go to the bathroom, and look in the mirror; a different face stares back. Begin your story here.
Include this line anywhere in a poem: "…the roughed coals languish long after midnight…"
Begin a story with the line, "The clock winked."
Begin your story with this line, "It was the one thing he coveted the most."